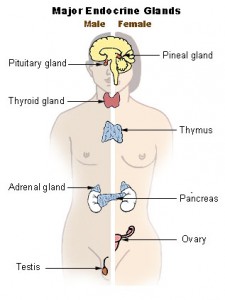 The endo…what? I'll give you a hint, it's not what you do when you go over your handlebars. In simplest terms, it is a system of glands, each of which secretes a type of hormone directly into the bloodstream to regulate the body. The endocrine system is in contrast to the exocrine system, which secretes its chemicals using ducts. The endocrine system influences almost every cell, organ, and function in our bodies. It is instrumental in regulating mood, tissue function, metabolism, and reproductive processes to name a few.
So how is this system involved with stress? When the body is stressed, the glands of our endocrine system start to produce stress hormones. These hormones are released into the body and in response, the liver produces glucose, raising our blood sugar and keeping us in our 'fight or flight' sympathetic nervous system response when we don't need to be there. Basically, it inhibits our ability to relax and recover from stress.
The ability to recover from stress and to remove ourselves from stress is very important in overall healthy function of the body.  Our society lends to a life of sympathetic nervous system living and not parasympathetic healing.  As a whole, we need more time in the parasympathetic nervous system response and 'down time' is the way to get there.  I'm not talking about down time in front of the television while folding laundry.  I'm referring to meditation, massage, relaxation in nature, sleep – I'm referring to time spent nurturing your soul and rejuvenating your systems.  Time away from a hectic schedule: working, training/exercise (yes, exercise is a form of stress & in moderation can help relieve stress – find balance), giving & caring for others (again, has it's benefits, but it may take it's toll if you do not make time to care for yourself) – make time for your healing and recovery.
The Endocrine System
Helps the body to restore and heal itself
Develops of a restful sleep pattern
Promotes appropriate levels of hormones (bringing the immune system back in balance)
Benefits of massage on the Endocrine System
increases general circulation in endocrine system and thus helps in transport of hormones
indirectly aids immune system, as some hormones produce lymphocytes to aid in immunization
normalizes endocrine activity through balancing effect on ANS (autonomic nervous system)