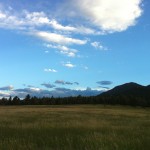 I am blissfully honored to introduce myself as the new owner of Massage Boulder. As you now know, I will be taking over Jess' practice and the Massage Boulder brand, as she and her husband follow their path to amazing opportunities on the East Coast.
I am looking forward to the challenges of working extremely hard to continue to make a positive impact on each of your lives and to maintain the incredibly loyal clientele that Jess has worked very hard to nurture.  It is my goal to pick up where Jess leaves off and to work with each of you to meet your individual massage therapy needs.
It means so much to me to have the opportunity to make a difference in your lives through the numerous benefits of massage therapy. I look forward to meeting each of you and learning more about you in the near future.
I encourage you to frequently check-in at massageboulder.com to view more information on my background, interests, scheduling, and any updates to the website.
Cheers!
Maia Ignatz
Please feel free to contact me with any questions or concerns at maia@massageboulder.com or 720-938-5910