Happy Holidays Dear Friends & Clients,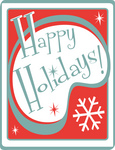 I hope that this finds you in good health and that your Thanksgiving Holiday has been a blissful one!
Already, the winter and the Holiday & gift giving season is upon us! Additionally, during the winter it is chilly outside and potentially icy; we are cold, tense, and our circulation is not great lending to muscle tension and a greater risk of injury. This time of year can be stressful; as it involves Holidays, bad weather, multiple family gatherings, travel, and extra expenses.
In the hopes that you will all take good care of yourselves as well as everyone in your life, I am running some specials until Jan 1, 2011.
Book a massage for yourself in December and receive 1 gift certificate at 50% off.
Book 2 massages for yourself in December and your 2nd massage is $10 off regular price.
Get a $10 discount on all gift certificates purchased before Jan 1, 2011.
(All specials apply to 60-min sessions or longer only).
2010 regular rates: 60-min/$70, 75-min/$85, 90-min/$100
Please schedule appointments online and contact me with questions or to purchase gift certificates.
Feel free to share this offer with your friends and family.
Be Well,
Maia